What are the current realities of hockey?
Sport plays a vital role in life and is an indispensable part of the culture of the United States. The vast majority of Americans watch, are interested in, or play sports themselves. The wider popularization of hockey in the United States is hampered by the fact that it is one of the most expensive sports. It is not affordable to most Americans, unlike football or basketball, for example.
The most popular hockey in the US is in Chicago, Detroit, Pittsburgh, Tampa, Minneapolis, New York, and Boston.
The current realities of life relate to all life areas: cinema, show business, sports. Even in severe sports, there are men whose orientation can hardly be called traditional. In the 21st century, many are already openly admitting their sexual preferences, while others prefer to remain silent, but the fact remains: in this disciplines, as well as in other, there are gays. Here you will learn about those hockey players who have come out or simply support the LGBT community, as well as about the organizations, such as The New York City Gay Hockey Association.
First coming out – Brock McGillis
The first and one of the most famous cases is the coming out of semi-professional player Brock McGillis. His fate is a real backlog of Oscar-winning movies. Young player understood from childhood that he was not interested in girls and, fortunately for him, he found support from his parents: "No problem," his father said. Brock was constantly depressed because of his little secret. The only outlet was only a game of hockey. The young man went to train 12 times a week. This continued until he began to practice professionally.
Having joined the "combat fraternity" of hockey players, Brock was forced to hide his orientation. Having completed his career as a player, Brock began to coach the children's team, and he came to realize that he was right and confident. Now McGilas does not hide his orientation and is used to defending his position.
Gay Advocate – Anders Nilsson
Anders Nilsson is a Swedish ice hockey goalkeeper. Nilsson played until 2011 at the Swedish club Luleå. In 2010, he played one game at the World Junior Championships, where the Swedish junior team won the bronze medal. In 2018, at the World Championships in Denmark, together with the national team, he won gold medals.
The player of "Edmonton Oilers" has repeatedly stated that the infringement of gays is wrong.
Anders Nilsson isn't a gay, he has a wife and 3 children. Protecting people with a non-traditional orientation is only a life position, the main principle of which is: "We must be equal. That is how it should be". As a sign of support for LGBT communities, Nilsson has repeatedly taken part in gay parades, and once went out on the ice in a helmet decorated with a rainbow stripe.
Hockey player raised in the LGBT family
Have you ever heard of a young hockey player who, according to fans, has a "heart of gold"? Jaret Anderson-Dolan is 22 years old, and he is already considered one of the most promising players according to experts.
"Instant reaction, incredibly fast legs, and arms. The player always puts pressure on the opponent and is where he needs to be, "the opinion of experts about the game of the young man. Who knows how Jareth's fate would have developed if it weren't for 1 nuance: he doesn't have a father. Anderson was brought up in a family with two mothers.
The player himself has already learned to ignore the sidelong glances and grins from his peers. Jaret actively advocates for the protection of the rights of LGBT communities, although he himself adheres to a traditional orientation. At the same time, as Anderson assures, his position in life does not affect the game in any way – Jaret is as concentrated as possible on the ice.
Having won a gold medal at the competition, Anderson gave it to a little girl, whose sister expressed her boundless gratitude to the player.
NHL attitude towards gays
The NHL and NHLPA have been working together with the "You Can Play" project since April 2013. It aims to create equal, respectful, and safe conditions for all athletes, regardless of their gender, sexual orientation, such an atmosphere in the locker rooms that would appreciate athletes solely on their level of skill and attitude.
Boston team player Brad Marchand, who has repeatedly spoken out in defense of gays, said that the NHL will accept any players, regardless of their sexual orientation.
More and more people are openly expressing their opinions, forgetting about purely male stereotypes regarding hockey and sports in general. In the first place, professional skills are increasingly put in the first place, which has nothing to do with sexual orientation.
Marchand once made a remark on Twitter to a person who left a rude comment with overtones insulting gays. This is what he said: "What you say is offensive to many people around the world. Your parents should be ashamed of you."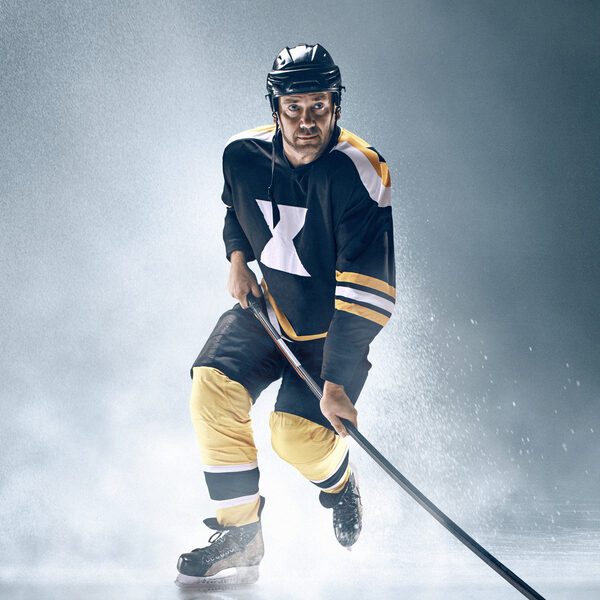 New York City Gay Hockey Association
The New York City Gay Hockey Association (NYCGHA) is the first official gay hockey organization based in New York. Although it is a serious sport, there are exceptions everywhere. More and more people openly declare their orientation in American football and basketball, where, by the way, the guys are also brutal and courageous. The purpose of the New York City Gay Hockey Association is to create a friendly environment for gays in the industry in New York.
We live in an era where it's okay to be open about your preferences. This trend has already reached hockey. New York is a very progressive city, so the hockey community in New York is inclusive, hospitable, and supportive. The New York association strives to protect the LGBT community from all negative manifestations.